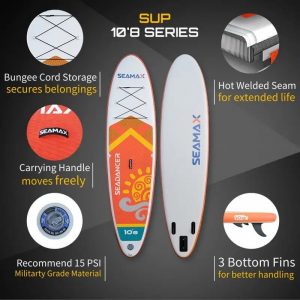 SeaDancer Inflatable SUP Package
$695.00
Dimensions L10'8ft x W32″ x T6″, 2 Color Available. Blue or Orange
New features – Durable SUP PVC fabric with CNC made, Best size L10.8ft x W32"xT6"; built for light weight and super rigid, max load 300Lbs person.  Hot welded chamber seam with 3 years best industry guarantee, Idea for saltwater and freshwater recreational use. Package includes telescope SUP paddle, Hand Pump with air gauge, Leash, Backpack style carrying bag and repair kit.
Easy to Setup – Pull your SUP out of its bag and un-fold it. Take the Fin and hook them into place making sure that the longer portion is going towards the end of the board. Once the Fins are in place, turn the board over so that the valve at the front of the board is facing up. The net weight of Seamax 10.8ft SUP is about 20Lbs, and all included when in the backpack is about 28Lbs.
Inflation – Remove the cap from the valve and check to see if the stem in the center of the valve is up (sticking up out of the valve) or down (even with the inner rim of the valve). The stem of this valve must be in the up (inflate) position to inflate the SUP until 15PSI. FYI, all Seamax SUP are 20 PSI tested.
Deflation – To deflate and break-down your SUP, just remove the valve cap and push in the valve stem turning it clockwise a quarter turn to lock it in the deflate position. Un-hook the Fins by pressing the Fin holders close together and popping the Fins off. Roll the SUP up with the top side facing out (this will push out all of the air), and put away in its bag.
Care & Guarantee – To clean your SUP, just use a mild detergent and warm water. You should rinse your SUP off with fresh water after using it in salt water. To ensure that your SUP lasts for years to come, do not store it in direct sunlight uncovered or in extremely hot or cold temperatures for long periods of time.  Seamax Canada 1 year fully guarantee, plus 3 years for Seam and 5 years for fabric.
Knowledge
Paddling Basics Knowledge
Make sure that your SUP is fully inflated. It should be nearly rock hard and when standing on the SUP in the water and it should not bend. Your paddleboard may flex some with your weight, but it should not bend to the point of creating a crease.
If you are paddling in open water, such as a lake or the ocean, make sure that you use an ankle leash. If you are falloff, your board could be swept away from you, leaving you stranded. An ankle leash will keep this from happening.
If you are paddling a river, do not use an ankle leash. This could be very dangerous because if you fall off, your board could pull you under the water as it continues down the river. Also, an ankle leash could get caught on items under the water and pull you off of your board as you are riding down the river.
Be careful in windy conditions. Because you are completely above the water, strong winds can greatly affect you and could push you around.
Never leave your board, even if you lose your paddle. You can still paddle your board with your hands, which is easier than trying to swim back to shore. Also, if the wind was to pick up, your board will blow away from you faster than you can swim to it. This is why an ankle leash is so important.
Foot Position: You should stand in the middle of the board when paddling. When on flat water, stand with your feet about shoulder-width apart and face forward. If you are surfing or in choppy water, you want to take more of a surfer's stance with your dominant foot facing forward. Your feet are not glued to the board, make sure to get used to moving your feet around on the board because the sooner that you do this the more comfortable you will feel about doing turns and riding waves.
The Best way to turn your board is to stand with your foot at the tail of the board with your weight over the fins. This is where foot movement will come in handy.
Specs
Idea for
All-around recreational SUP
Whitewater SUP
Saltwater & Freshwater
Product Net Weight

20Lbs (9KG)

Seam Type
Hot Welded Seam, 20 PSI Tested
Length
10.8ft (3.3m)
Width
32 inches (86cm)
Thickness
6 inches (15cm )
Max Passenger Load
300Lbs (136Kg)
Air Chamber Volume
378L  (100 US Gal)
Fins
2 Fixed +1 Removable
Carrying bag included
Yes
Paddle included
Yes
Hand Pump included
Yes
Repair Kit included
Yes
Pump Type
12v Air Pump
Warranty
SEAMAX Inflatable SUP are warranted to be free of defects in material and workmanship during the following prescribed warranty period. The SUP' hull, all hull attachments and accessories, but not limited to, such as floorboards, Drings, oar safe rope, lifting handles, air valves, carrying bags, air pump are covered by this Limited Warranty for one (1) year. All the air holding fabrics seam structure are warranted against defects in material or workmanship that cause blistering and delaminating for three (3) years, and five (5) years for (PVC) fabrics.