I liked the extra layer of protection 🙂
I bought this mat because of the two year warranty. All the other mats I looked at only had 1 year. Appears to be quite a heavy duty mat and it weighed quite a bit more than the other mats out there. I liked the extra layer of material for protection.
GOOD PRODUCT EUROPA!!!
I have a Seamax boat and love it and thought I would try the 18' mat as I'm tired of all the water in my garage when I park inside over the winter! It snowed yesterday and my SUV was covered in snow by the time I got home and decided to park inside on my new mat. Went outside to the garage this morning and was scared of the mess I was going to see but the oor was bone dry! I used my shop vac to suck up all the water o the mat and there was 25-30 gallons! GOOD PRODUCT EUROPA!!!
Quite knowledgeable and helpful
Bought this from Europa Boats in Edmonton. They had one set up on the oor so I could get a good look at one. The guy there was quite knowledgeable and explained the "do's and don'ts". It was nice to be able to see one of these mats before I bought one. I bought one from Amazon last year and sent it back as it didn't look anything like the picture that was on the website.
Great mat warranty as well!
My F150 ts nicely on the 21' mat and the extra layer of material on the mat is in the right place. Great warranty as well compared to other mats out there.
Great looking mat!
This is a Great looking mat! Seems pretty heavy duty.
Picked up my Seamax 18' containment mat
Picked up my Seamax 18' containment mat yesterday from Europa Canopy and Marine and laid it out in my garage. Lots of wrinkles! It weighs a lot more than my old mat which only lasted one winter. Hopefully this one will last longer. I like the two toned colour and the extra layer of material that's been added when you drive on to the mat. Update: Checked the mat this morning and it had attened out considerably.
The family loves this unit!
Hi Gerry I'm getting good at setting up the boat, and the family loves this unit! The 20 hp Honda pushes the HD 470 at about 10 to 18 mph. Love this boat and would recommend a Seamax boat to anyone. We get lot of on lookers when we set up or tear down. One idea I have to improve the boats is a larger d ring on the bow so a person can get a good hold on it for launch or landing reasons.
Very Happy
Fantastic gift for our anniversary
Hi Gerry,
Just a quick note to thank you for all you did to ensure that I was able to give my husband a fantastic gift for our anniversary last week. He was surprised and thrilled with the HD330 and has already had it out on Lake Koocanusa this past weekend. No photos yet but there is still time…headed to Lake Kananaskis this weekend.
From your amazing help with processing my order so quickly to the super-helpful people over at Highway 13, this was a great shopping experience. I would recommend you guys to anyone!!!
Cheers
Very happy with the Ocean Pro
Hi Gerry,
I just wanted to let you know that my Dad and I are very happy with the Ocean Pro we bought this summer. I went out to Prince Albert early September and we got the boat out a couple times with no problems.
My Dad received both packages with no issues and had the boat put together in no time at all. He managed to find a used boat trailer which he modified to fit the inflatable. He fabricated new bunks, moved the winch and installed a front rock guard and the trailer is working well. The boat is very easy to launch and load up with the wheel attachment (didn't even need to back up into the water with one launch). The ropes and handles along with the wheel assembly allow my parents (who are in their late 70's) to easily handle it even though the beefy Pro series is quite heavy.
We had some cavitation issues the first day with the 15Hp two stoke but with some adjustments to the trim and moving the weight around we seem to have taken care of that problem. We had the boat out on Weyakwin Lake one day and encountered some fairly large waves which were handled with no concerns (didn't even get a drop of water on us when we hit the waves at full throttle). One thing is that the boat is rated for 8 people which I have no doubt it would handle the weight but I would think 3 with gear would be maximum just for space.
Thanks again.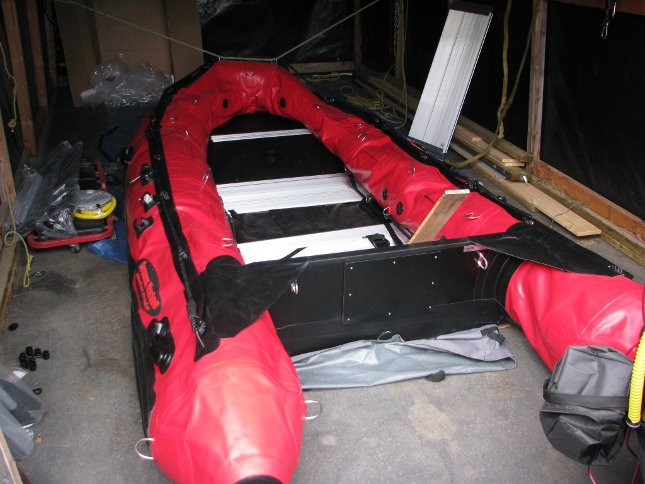 Seamax came to our rescue
Well i wanted to wait till we used our new boat Seamax HD/in the water. But things happened and we never got our boat in the water But We were in a aliminum boat that capsized and a seamax came to our rescue not only did he pick up two extra male passengers he put the aluminum on the front of his seamax and brought them all to shore.We were so greatful he was there and very inpressed with his seamax we are sure o love ours.But i also want to let people know how great gerry was with us not only explaining things while we were buying the boat .His after sale treatment of customers can not be beaten he has the patients of a saint taking time to go over things again and again. He also is true to his word which is rare in business today so a big thanks to gerry
Like my boat & motor combination
I like my boat/motor combination, here's a couple of photos of my wife and I exploring Columbia Lake at Canal Flats BC
Ride great with the Yamaha 25's
Hey Gerry, it's Chris.
Here's a pic of one of our boats on May long weekend. They ride great with the Yamaha 25's we put on 'em! Eddie and I will have more pics in a week or two.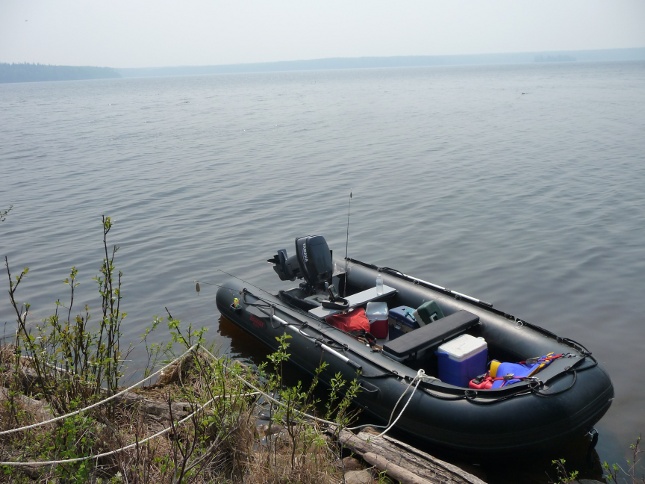 Much easier to transport and load and unload
Hello Gerry,
We took the boat out this weekend for its maiden voyage and everything went well. We didn't get any pictures of us in the boat but Wren took some shots of me getting it into the water. I rigged up a carrier for the top of the truck, much easier to transport and load and unload. It was a good day on the water.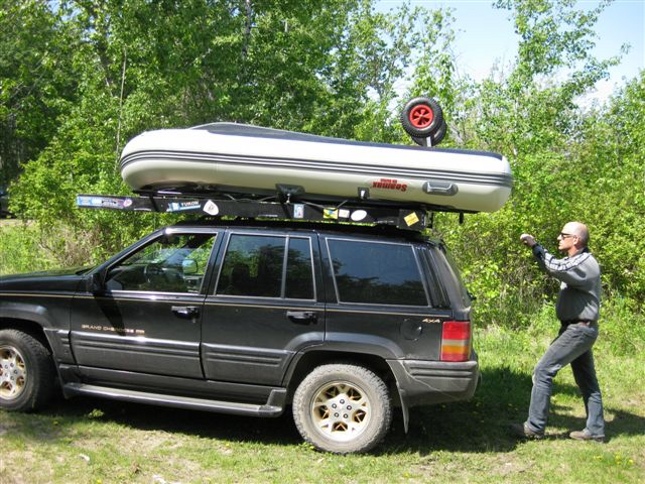 Ghost Dam
Gerry the wife and I had a good day yesterday trying out the HD 380 and new mer motor on Ghost Dam.
I LOVE it!
Hi Gerry
Meaning to get back to you for a while now with some pictures and how I like the boat. I LOVE it! Your suggestion of using a camp chair for the rear was the right call. Ended up going with a Pico folding chair. I like to sit on the sides when going up & down rivers and use the chair for the lakes so the folding Pico chair works great for that. The cushion bags or nice but the bags them selves where they attach to the cushions were not stitched properly and were basically not connected to the seat. So I would say you need to give your supplier some crap there. Bad quality. The oars are nice except for the hole to connect the two together did not match up on one. I drilled it out but the result is a lose oar as the offset ended up making just one large slot. The pump you sent seems to work great. No issues at all. Only things I would add is a way to connect a safety chain or strap from the out board to the transom and a extra rub strip on the top of the tubes for those who carry the boat on a rack inflated up side down like me. Seen lots of boats carried the same way over the summer.
All in all the only major thing I would have done different is I would have gotten a smaller model as the 15′ is a bit to heavy to lift onto my trailer (see picture attached) and turned out to be bigger then we needed but other then that its great. I have attached some pictures. Tammy loves the pedestal front seat as it allows her to have excellent room for casting and the ability to tend to the little girls. Had a lot of fun with this boat and thanks for the great hassle free experience purchasing it. I have recommended your boats many times so far.
Best regards
We felt very secure with some very big waves
Hi Gerry,
I just thought I'd drop you a line and a picture of me enjoying time on my Seamax HD 380. I found a Yamaha 25hp 3 cylinder motor for it. I was hesitant at first due to the weight (about 140 lbs due to electric start and 3rd cylinder), but I have to say, the boat doesn't squat and handles it very well. I saw no transom flex when I throttled it out.
I tested it for speed and topped out at 37 km/h (20 knots) with 3 people in it on Lesser Slave Lake.
As for handling the waves, we felt very secure with some very big waves early last week. The boat just rolls easily with them. My friend (elderly gent) who I bought my first HD with just loves it for the stability. He's a big man at 6'3 and likely 250lbs, but he gets up to walk back and forth when fishing. His old boat would have seen him in the lake!
I've taken it on the Peace River 3 times and the family loves it. We did 26 km/r (14 knots) against the stream with a full load of six. It did 42 km/h (22.6 knots) with the current. I was very impressed.
I had a few people ask about the boat while at Slave Lake so I told them to check out kaygeeinflatableboats.com.
I'm trying to talk my Fire and Rescue group into buying the 470HD for the river here. We're waiting on our Casino payout before we make a purchase, but I'll keep pushing for the Seamax HD!
Just a note from a 3 time happy customer! (HD330 was great, but didn't like the air floor as much, so had to sell it). Speaking of floors, any talk or thought on a plastic floor for reduced weight? It would be nice to through the boat on my roof rack without taking out the floor weight.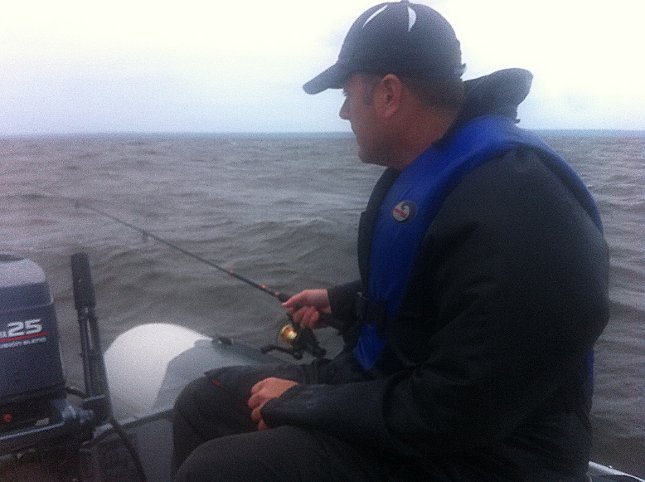 We absolutely love our boat!
Hi Gerry……….how are things?
I just wanted to send you a quick note………we absolutely love our boat! We got out a ton last summer and honestly I don't have one bad thing to say about it! Inflation and assembly is a breeze now!
Cheers,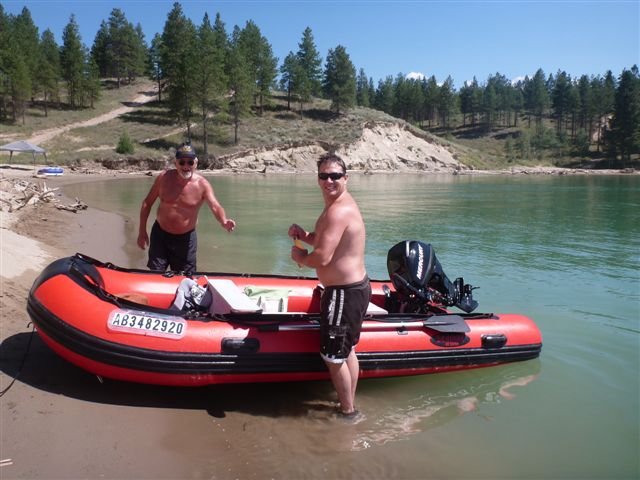 More than satisfied with it
Our son Andrew bought a 330 HD seamax from you this summer. .He was impressed with your knowledge and your P.R. We used the boat and we are more than satisfied with it. I am terrified of boats and water but I was very comfortable when we were using it. We will pass on all positive feed back to everyone about your products and how you treated him.
Thank you!
Good size for our family
Hi Gerry. Picked up the boat on Tuesday which was overnight to Grande Prairie. Took it out to Lesser Slave lake this past weekend and it worked Great. The HD360 is a good size for our family and I put a 15 HP motor on it. We GPS'd it and it went 25 Km/hr on calm water. It handled great, even in the big waves that this lake can produce. I will probably purchase the transom wheels as we launched it from shore and had to pull it out a ways to get it floating on its own as it was shallow for quite a ways out. Hoping to hook up a tube next year and pull around the kids on it. Thank you very much. I attached a couple photo's for your viewing.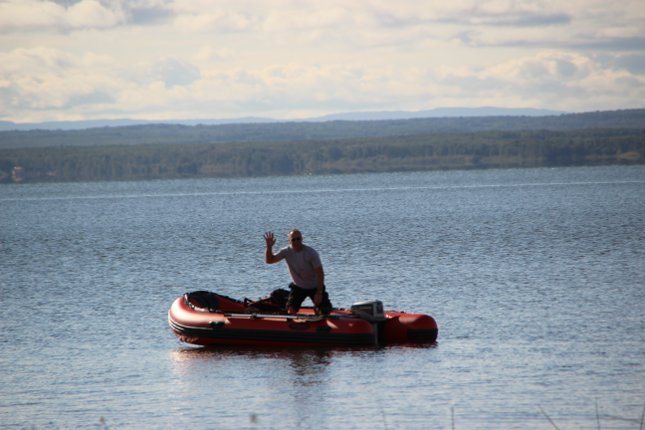 Sold on the twin hull design
Great layout and classic looking alternative to traditional Cat styling. I've been Sold on the twin hull design after years of abusing similar small craft cats in conditions that leave 30 monos fast-lined. Love the looks of the 26 Tideline and can't wait to see it perform. I'd be hard pressed to find a better shallow water platform than my flats cat but would welcome the availability of an efficient, good looking offshore cat to run 75NM+ day trips off Galveston TX.
Impressed with how much gear we can pack into the boat!
Hi Gerry! Thought to send you a few pics of our boat! Here it sits at Babine Lake BC We used a bit of gear which fit in the boat nicely and caught some rainbow trout. We used a 15 HP motor which was a bit heavy but once it was on the boat was easy to steer. We bought rod holders and attached them to the seats as well which aided us in trolling for fish. We find using this boat is great for lake fishing. We haven't tried river fishing yet as we are still getting used to boating. We were on the Pacifac Ocean with this boat from Stewart BC. We couldn't go to far as the water was a bit rough. We noticed that the bouyency of the boat is great as we can stand in it without much effort.
The first few time it took us awhile to set up and pack the boat. We were pretty good at it by the 5th try. We developed a good system as to who does what. You can see in one of the pictures we packed it up nice and neat. We were pretty proud So I had to take a picture. However we need to buy a two wheel pull cart for the bow area as we find the boat is to heavy with the motor. We were impressed with how much gear we can pack into the boat!
Take care Gerry and we are looking forward to using our boat again!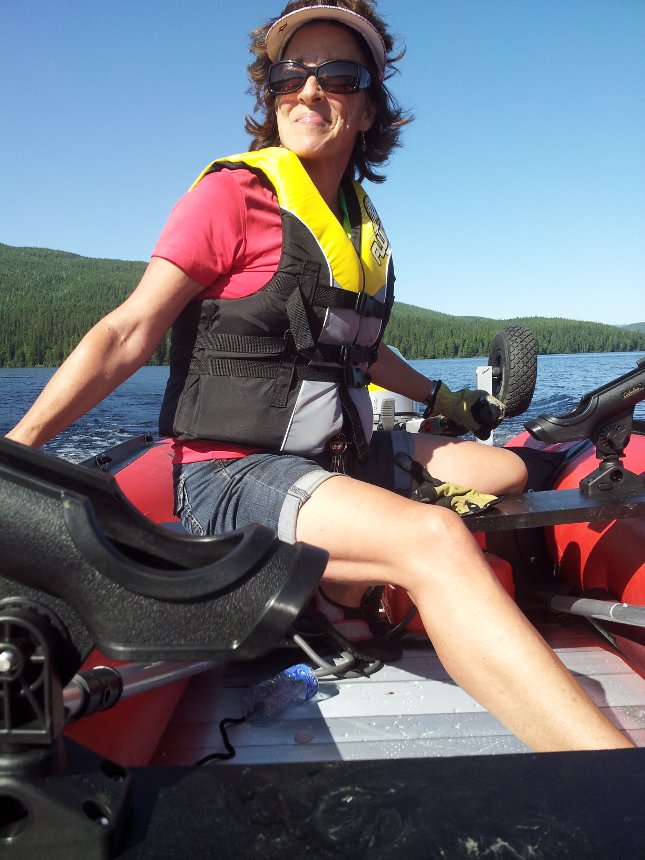 Lovin the boat
Hi Gerry, Lovin the boat!
Cheers,
Great boat and very rugged
Hello Gerry, My name is Stephan Gaines. I bought the Seamax series Sport420. It is a great boat and very rugged. I have been having a good time fishing with it and having a 15 hp engine on the back I have had her up to 30 Km per hr. She reaches plane great and I do not need those extra wings on the engine to get her to plane quickly. I had told you I was going to send pictures but want to make sure I send you very good pictures so you can post it on your site. I have been having some problems though with the boat bag that came with the boat. It is too tight a fit for my tastes. I would like to get a larger sized bag to fit her. I store my boat alot for transportation and need to have a good bag to tote her around. Is there any way I can get my hands on a larger sized bag? This is driving me crazy. I have tried folding and refolding the boat several times to make it fit but no luck. I have folded to get the air out and refolded after that. It seems to be the sides that will
not fit. I need a new bag to be able to make a quick getaway. As it is now I sweat alot getting it into the bag as much as I can. If you cannot help me can you at least point me in the right direction? I would greatly appreciate it.
Have been really happy with it
Hi Gerry
Just wanted to say I've had one of you HD series boats for about a year now and have been really happy with it. The only issue with it was I managed to break one seat but that was probably my fault driving to fast on a rough day. It speaks well of the boat that I felt comfortable enough with it to even drive it that hard. So far no other problems and I recommend it to anyone that asks.
My whole family loves the boat
Thanks Gerry for the great service and useful information. My whole family loves the boat and the fishing. My only regret was I didn't take your advice and buy the wheels and had to come back.
Great product and great service
Very impressed by how well the boat handled
Hi Gerry,
My son, Matt and I took the boat out on its maiden voyage last weekend (June 22). We went to Gull Lake and spent several hours in it, as we fished for the "big one". We christened "Red October" with a catch of pike and walleye.
Both of us were very impressed by how well the boat handled, and it's stability. If Rick would have been with us, I'm sure I would have been impressed by the fact it floated! We will check that out another day. We used a 5 hp Honda motor and it pushed the boat just fine. Can't waterski with it, but for fishing purposes it was good. The rounded pontoons at the back of the boat make a tremendous difference to how well it moves through the water. The front doesn't rise up and cause more resistance by pushing the bottom of the boat through the water. We couldn't believe how easy and quick it was to assemble and inflate the boat. I think we did it inside of 20 minutes. The power compressor makes a world of difference, and was a great investment. Just as impressive, is the aluminum floor. The pieces slide in and snap into place a lot easier than a wood floor. I have done it with a wood floor, and while it is nice, I believe the wood probably swells with moisture and makes it more difficult to fit.
All in all, Gerry, we are very happy with the new boat, and give it very high ratings based on this initial outing. We will see what future voyages hold in store, and keep you posted. The real test for the boat (and especially the motor) is when my overweight First Mate takes the chair.
Regards,
What a great boat
Thanks Gerry,
I managed to take it out once on the water and what a great boat! I am very happy with your design.
Thanks again for everything. I will certainly recommend you to anyone I know that is in the market for a new inflatable. You may be getting a call from my brother in the fall!
It's a real BEAUTY!
Hi Gerry,
We received our boat today, and it's a real BEAUTY! The size is perfect for us too. Thank you for the bench cushion and case not expecting that! Can't wait to get on the water. We are glad we found your website, the HD series quality and looks are superior. Thanks for the quick and friendly service.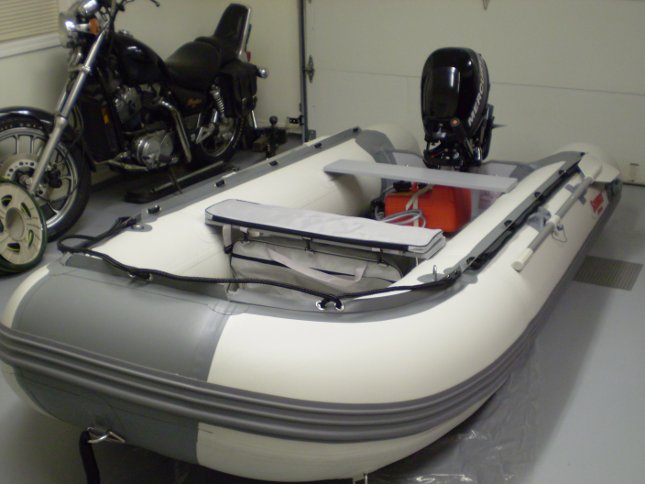 Boat is easy to put together and is great
Hi Gerry just wanted to thank you for your help in purchasing our new ocean 430T. Really appreciated your advice it made our decisions much easier. The boat is easy to put together and is great on the water. Will definitely be recommending Seamax boats. Thanks again for your help.
She preformed beautifully
Took her out today on Twin lakes here by Rocky. She preformed beautifully with my 40lb thrust Minkota. Had a little trouble with the wheels we installed but after I figured out I could store them in the up position while on the water instead of taking them off and trying to put them on in the water. Using the quad trailer for transport so having the wheels are great. As you can see Maggie was a little unsure and didn't like the aluminum floor so carpet next trip. Is she spoiled or what. Boat was great to handle. Thanks for all your super help!!!
The boat arrived as promised
Hi Gerry,
The boat arrived via Purolator at the Marina on May 10th as promised. It went together very weak and I am extremely pleased with it. It appears to be everything we were told it would be at the Toronto Boat Show. I have recommended your product to Marlon Marine in St. Catharine's where I shop for most of my boat supplies. They took your information and said they would be getting in touch with you.
Thanks again,
The boat expands our vacation
Hello Gerry,
As anticipated, we find the boat expands our vacation camping experience significantly.
There are a few quirks we've noticed with the boat, however we'll wait until most have been recognized, then we'll approach you at a later date.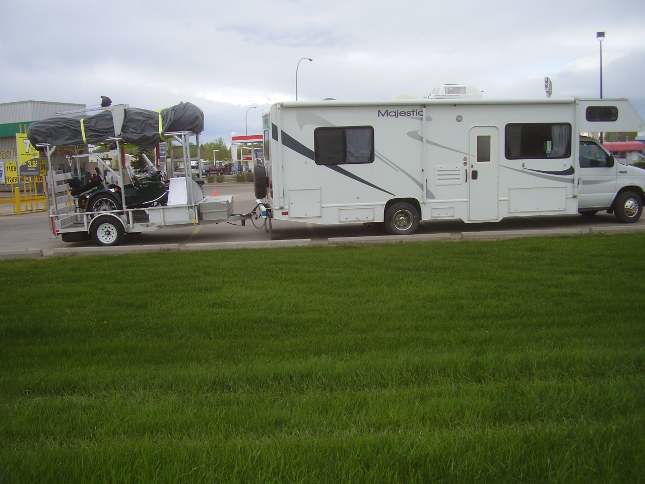 Service was appreciated
Gerry,
FYI, I bought this one from you because of your service and the way you presented yourself on the phone. Most other company's I contacted didn't give me the time of day. I'm not trying to toot your horn but I thought you should know that your service was appreciated and ensured a sale. Any questions feel free to give me a holler.
Thanks again,
Good product, good price, good service
I wanted to thank you for your help with the questions that I have asked you about my boat and motors, also for replacing the bag that was too small for my boat and for the black bag that you gave me for the rest of the boat parts. I wanted to let you know that when I come across people that are looking for an inflatable I will recommend them to you in the hopes that you will treat them the same way as me, good product, good price, good service. My father has already expressed interest in this type of boat after having been on mine yesterday. (Though I suspect that he won't be in the market for a while due to his space restrictions).
Very happy with the quality
I just received the boat Gerry and I am very happy with the quality of it!! Thanks for accommodating me with the colour I was so very happy when I opened the package. Have owned two other inflatable boats and have the Paddleski from sea eagle at present. The PVC quality is just so there!!! That coupled with the extras and even the pump it just comes down to a great deal for extremely good quality. You can take that to the bank . I will follow this email with a series of pictures. I bought the Mercury Pro kicker 15 hp to go with it. I will test it out on the water in the coming weeks. Should look good with the red and black engine and the red and black boat.
Our 330-HD is a show-stopper gem
Dear Gerry (Wood),
We are mostly retired and extensively researched our light-weight/portable/inflatable "dream" boat. After a month of searching, nothing answered all our requirements… that is, until we discovered you! Not only are you a Seamax dealer but you are the "exclusive" designer/dealer of the Seamax HD-series (which is almost a too well-kept secret!). You listened to our needs (likes/dislikes) and made sure we were buying for the right reasons. You are always personable, honest and available to discuss/trouble-shoot your product. Everything you explained/promised came to fruition.
We are more than delighted/satisfied with our 330HD-Seamax!…..Why?
Great price/value, high-quality, very roomy for just ourselves, nicely detailed with useful hardware, easy maintenance/set-up, amazingly light-weight, compact for transport/storage (no need to tow anything; fits an apartment closet).
Many of the "extras" we thought we'd be paying for were included, such as: inflatable floor option (our dogs' nails cannot puncture), painted marine plywood seats; one of them with a pillow-top/zippered bag compartment, Canada Transport certified, bumper-to-bumper warranty…. to name just a few.
Many thanks for your service(s) and extensive knowledge. Our 330-HD is a show-stopper gem wherever we go.
We highly recommend your Seamax products/dealership.
Catherine Matheson and George Huard in Ottawa, Ontario.
Loved it on the river.
I just bought your 380 HD and loved it on the river. A buddy of mine is interested in going halfers with me on your 330 HD air floor if you still have one. Save it for me and I'll pick it up in the afternoon tomorrow (Friday) Thanks!
Rapids with 3 foot waves seemed like ripples
Hi Gerry, I took the boat out for the first time August 1st down the McLeod
river. I found that if you deflate the keel you only need 2″ of
water. Rapids with 3 foot waves seemed like ripples.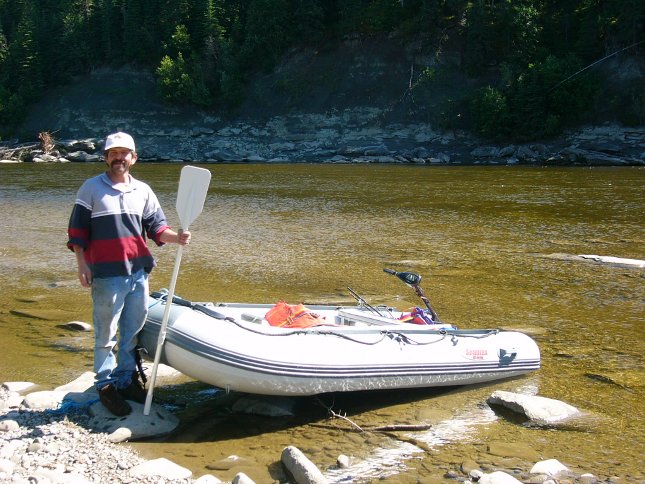 Much more stable than an aluminum skiff
I had the boat out this last weekend and the setup was easy. We had some light swells on the water and the Emarine 365 handled them nicely. I have had the opportunity to use it with both my 7.5 Evinrude and 40# trolling motor. With one person in the bow and one at the motor, the boat got up on plane quite easily and motored along at a good clip with great handling. I especially like how stable it is. I have two young boys (4 and 6) that do not like to sit still. With the floatation being at the outer tubes, the Emarine is much more stable than an aluminum skiff. Thanks Gerry for the new experiences and service.
WE LOVE IT!!!!!
Hey Gerry,what can I say….WE LOVE IT!!!!! Bought our first boat off Gerry back in June of 2011. After putting it in the water for the first time,we discovered that it was taking on water. I called Gerry,he told me what to do to find the leak and to bring it to him to see for himself. Turned out it had a minor manufacture defect..oh no,what do we do now? Well,I gotta say,this man stands behind his product 150%!!! He took the boat back and I upgraded to a bigger boat. A BIG #1 in customer service!
Our new hd380 worked fantastically!
Gerry.
Our 1st trip was on May 29th. Our new hd380 worked fantastically! With our 9.9 horsepower outboard we easily got it on plane! Unfortunately, a bad batch of gas stopped us from booting around Lac la Nonne too long…but we threw the electric motor on it and fished for a couple hours!
In a couple weeks we will be out again and I will have more photos and video to share. We are going to take it to Kelowna as well so we should have lots of great photos and memories to share.
Thank you,
Such a well built inflatable
Still haven't put the boat in the water yet but hopefully the first week of June. I have attached some photos you may post to your website. I have been practising inflating/deflating and it is much easier with the electric pump but not as good for your legs as the manual one. I am still wrestling with making the boat compact enough to fit into the bag but with time I'm sure I'll be an old pro at it. Gerry, I wanted to thank you for creating such a well built inflatable to your exacting specifications.
I'm sure I will enjoy the boat for years.
Runs great with my 6hp Evinrude
Gerry, I've had a blast with my 330! Runs great with my 6hp Evinrude I rebuilt from top to bottom. My wife and I hit some lake for elec only, my new 35lb thrust Minkota is a dream to use and the rainbows I caught weren't bad either. With my handicap its a snap to fill, the pump is awesome, worth every penny. It stores great in my travel trailer. We are off next week again, up north to slay some more walleys!
thxs Gerry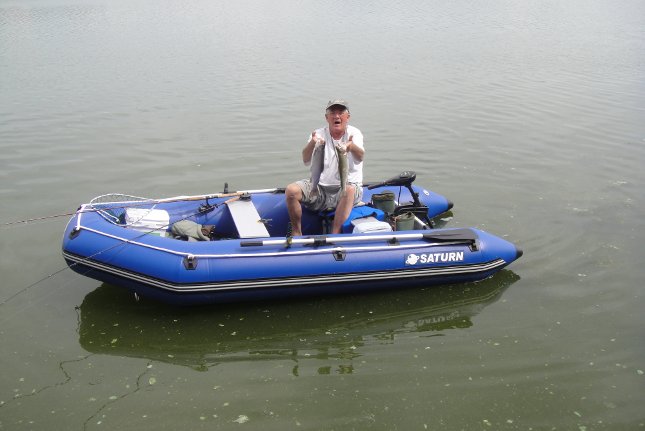 Thanks for the great boat
Hi Gerry, this is Darryl from whitecourt. We took our boat yesterday for the first time, got a great way to tie the seats together, will take a photo later to show you. Winds picked up over 20 k with whitecaps over a foot and the boat handled perfectly, but the 9.8 won't plain off, and goes about 12 kph with two of us, but handled well on every other test I performed. Also because the waves and wind were so strong and we were out having a blast, the fishery officers decided to check us to see if we were drunk or just crazy. After they decided we were fine and just having fun they said we were fine to continue. It seem like we were in no danger. It was a blast. Thanks for the great boat, and the pump worked perfectly also, takes about 5 minutes, really impressed.
Just thought you would like to know. "
yours sincerely Darryl.
Loving my HD 470
I am still loving my HD 470 as you can see from this picture I took last week however the pull drains on my boat have seen better days can I order a new set?
We're extremely happy with the performance.
We had the 380 out today with a "new" 2-stroke 9.9 Johnson, and it planes absolutely fine even with my wife and I sitting right at the transom and the fuel tank in the back. The flat tube ends seem to make a huge difference, with Sarah at the front there is almost no bow rise and it planes at super low speed. We're extremely happy with the performance. Top speed today was 26km/h with the 9.9.
I'm trying to source a 15hp carburetor to bump the motor up. It would be nice to cruise at the same speed without running at full throttle, but otherwise the 9.9 moves the boat quite well. I'll let you know how it runs with a bit more power!