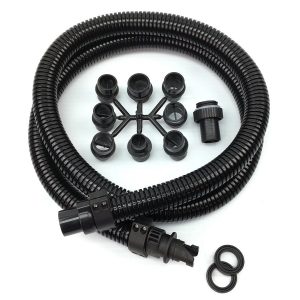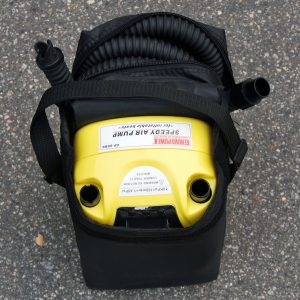 Rigid Nylon Air Hose Kit for 80D & 80DB Electric Air Pump
$37.00
High Temperature & High Pressure Application
Package:
    5FT reinforced air hose for high pressure inflation
    2x O-ring with different thickness
    Reinforced hose-to-Pump adapter
    Reinforced Halkey-Roberts valve adapter
    With Leafield C7 compatible valve fitting adapter
Operational Instructions
Operation Instructions
1) Higher pressure output causes air temperature goes up fast. Higher temperature and slower air flow may damage the pump and air hose. Do NOT use the pump after a continuous running for more than 5 minutes at the setting of 8 PSI or higher. Let the overheated pump cool down for at least 15 minutes before next use.
2) Make sure the pump's internal battery (if applicable) or external battery is fully charged before operating the pump. Battery in low level will cause longer working time and damage to the pump's internal parts.
3) To cool down the pump fast, let the pump operate a few minutes without connecting the hose to it. The air flow may cool it down faster.
4) If the hose is damaged due to the hot air near the hose-to-pump connector, cut the damaged portion (approximate 2-inches) and use the new extra hose-to-pump connector.
5) To reinforce the hose after installing the new hose-to-pump adapter, use some electric tape to wrap the air hose for about 2 inches starting from the hose-to-pump connector side.