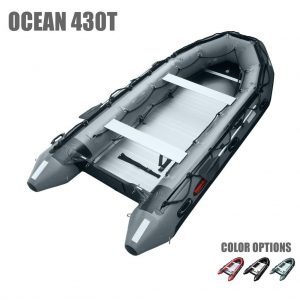 SEAMAX OCEAN 430T BOATS
$4,695.00
The Seamax Ocean 430T Inflatable Boat is a 14 Feet Commercial Grade PVC Inflatable Boat, Max 10 Passengers and 35HP Rated.
SPECIFICATIONS
Overall length 14ft, beam 6.4ft, inner dimensions L10.0ft x W3.1ft; Boat dry weight 250Lbs, carry 10 passengers, max loading 2159Lbs; Pontoon diameter 19.7 inches, 5 pontoon chambers and 1 keel chamber, Chambers with Hypalon type 4 layers overlapped seam, max pressure 3.6PSI (25kPa); Aluminum floor & reinforced V bottom; Short shaft 16"/ 82° & reinforced transom, Max 35HP motor, suggested 20-30HP; Red, Dark Gray & Black color to choose.
Non-skid sectional aluminum floor system with side joiners, Fuel tank and battery box tie down fitting on the floor, Transom motor pad and heavy duty pontoon towing rings; Transom to pontoon adapter fully reinforced, marine sealant is applied which resists leakage. Multiple D-ring kits installed on the inside of the pontoons, 3 x front towing rings with tow line; Full size towing rings on transom, 6 x heavy duty handles, Oar lock set installed, 3 position seat receiver.
2x aluminum bench seats, 2 aluminum oars, 2 heavy duty boat carrying bags (for hull & floorboard); foot pump, boat repair kit & spare parts. Reflective Plates (optional) – US Coast Guard Approved 3M Reflective Sheeting; Color Code: White USCGFP30 (Sliver); Dimension 3"x10" / 7Pcs.
FEATURES
Commercial grade boat fabric for main construction; Four layers overlapped chamber seam structure (Feature Code: FOS); Keel Center Inner Reinforcement (KCR); Transom Stabilizer & Reinforcement Design (TSR); Hull Stabilizer Bar Structure (HSBS); Seamax special feature also including: Dual Heavy-duty lifelines; Heavy-duty boat bumper around the boat and bottom; Heavy-duty D-Ring & Towing Ring patches.
4 layers overlap seam finishing is the strongest seam construction standard in the inflatable boat industry. The 2 main chamber fabrics are real-bonded together with ½" overlapping. Extra seam tapes on both sides of the chamber to reinforce the main seam. Overall thickness of the 4-layers chamber seam is 5mm in total. Our chamber seam technology may give the boat a double lifetime compared with many others.
Seamax always focuses on high manufacturing standards. A rigid transom is very important for inflatable boats. Besides using solid birch plywood to build transom, we develop a new standard called Transom Stabilizer Reinforcement (TSR). TSR will help the pontoon disperse motor vibration and weight. The reinforcement technology will extend the overall lifetime of the inflatable boat.
Hull Stabilizer Bar (HSB) is designed by Seamax and first applied in an 18ft government boat project. Now Seamax HSB 2nd version is available on every Seamax Ocean T model. Located near the front deep V-Hull, the specially made HSB greatly helps stabilize the boat structure. The tension along the HSB creates an invisible force triangle to stabilize the front Hull and keep the floor in place. Such a triangle inner support for the hull is a great boat add-on feature. Also, a boat with HSB should have better high-speed boating performance.