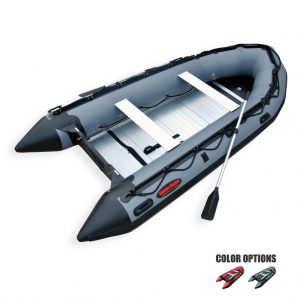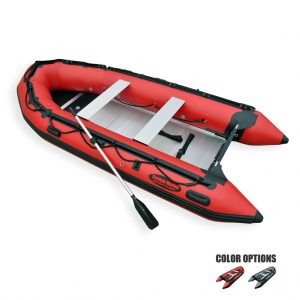 Seamax Ocean 380
$3,195.00
The Seamax Ocean 380 Inflatable Boat is a 12.5 Feet Heavy Duty PVC Inflatable Boat, Max 5 Passengers & Rated 25HP
Prices are subject to change without notice*
Specifications
Overall length 12.5ft, beam 5.5ft, inner dimensions L8.7ft x W2.6ft, pontoon diameter 17.5 inches; 5 pontoon chambers and 1 keel chamber, max pressure 3.6PSI (25kPa); Hypalon type 4 layers overlapped seam; Well finished V hull; Boat dry weight 190Lbs. Max loading 1211Lbs, 5 passenger boat rated 25HP motor, 15" short shaft transom; Heavy duty aluminum floor; Red and Dark Gray color to choose.
Marine Grade PVC coating fabric for boat construction; Thicker 1.2mm material for entire boat bottom, Seamax developed reinforcement design for keel, transom underneath & pontoon bottom. Heavy duty life line around the entire boat, secondary life line on the inside of the boat; Heavy duty rubbing strake around the boat and keel bottom; Solid 1.5″ thick transom made by top grade marine birch plywood.
2x Aluminum bench seats, 2 x aluminum oars, Dual heavy duty boat carrying bags (for hull & floorboard); 2000 lbs capacity front towing cable; foot pump, boat repair kit & spare parts.
Features
Seamax is a dedicated manufacturer of Seamax inflatable boats. The Seamax Ocean series are using highest construction standards while being built. Ocean series can offer great performance for fishing, hunting and commercial applications. The boat is heavy duty and offers great value for the money.
Non-skid sectional aluminum floor system with side joiners, Fuel tank and battery box tie down fitting on the floor, Transom motor pad and pull-up style drain valve on the transom; Transom to pontoon adaptor fully reinforced, marine sealant is applied which resists leakage. Multiple D-ring kits installed on the inside of the pontoons, 3 x front towing rings; 2 x transom towing rings, 4 x tie-down style handles, Oar lock set installed.
EASY TO GO
Easy to set up, our Heavy Duty inflatable boats will take you for a fun day of exploration at the bay, river or lake. Once deflated, it can be easily stored in your mini van or pickup truck. Inflatable boats will take you there, away from the waters edge and closer to the fish. If you like to spend weekends being closer to nature, then an inflatable boat is for you. If you have an RV or go camping, most likely you will be by the water. Take an inflatable boat with you.
Once deflated and folded, SEAMAX inflatable boat takes up about as much space as a medium bag. You can store it in the trunk of a car, locker, under the stairs or in the corner of the garage, ready for the next weekend or holiday.
STABLE
Being an inflatable, SEAMAX Boats have a low center of gravity. It is practically impossible to capsize it. Whether stationary or cruising, SEAMAX inflatable boats are always stable. You can stand up when fishing, children are safe, and mooring is simple. Seamax is great as a family boat.
QUALITY STANDARD
Seamax Boats have Exceptional quality workmanship that is unmatched by most other boats. All models are registered with Transport Canada, and Recognized by US Coast Guard & DMV Office.