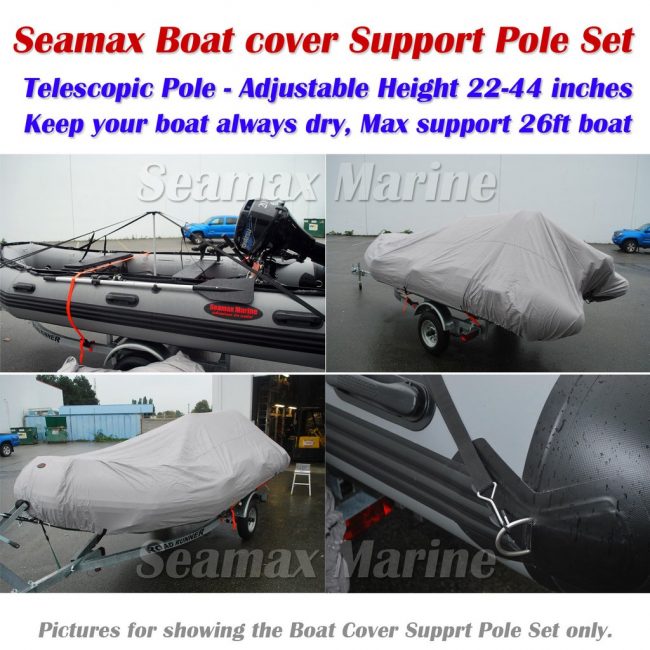 Boat Cover Support Pole System
$60.00
Telescopic Pole with 4 Tie Down Straps
Features
Effective design to help water run-off and keep the boat dry. Support pole in the middle to prop boat cover. 4 Straps (one to each corner) to hold the pole in place, form ridges from the pole to corners of the boat, and provide more support for the cover.
3 Stages Telescopic pole, Height range 22" – 44"; Adjustable Strap max length 9ft. Pole base diameter: 5-7/8"; all materials suitable for marine environment. Easy to deploy and can be used in many boat cover support scenarios.
Setup Scenario: Set the pole in center of the boat; two straps to connect the back corners D-rings or transom towing rings; two straps to front corners D-rings or front towing rings. Make sure all the strings can stay tight, then put the boat cover on.
This boat cover support pole system can fit inflatable boat, aluminum boat, pontoon boat and fiberglass boat. If your boat is with a big area, you may need more than 1 cover support pole system.
Seamax 2 Year Limited Warranty for Replacement
Information about Seamax Inflatable Boat Covers
Boat cover support pole system does not include boat cover. Seamax has the most model of inflatable boat covers in the market, Seamax Boat Cover is one of the best methods of protecting your inflatable boat from elements is with a well-designed and good quality cover. Covering the boat from sun damage and oxidation prevents dirt from setting on the interior and exterior and keeps moisture from causing mildew or rot to the surfaces. A nice boat cover is always a wise investment.